Sporadic word / idea vomit (insert better word here):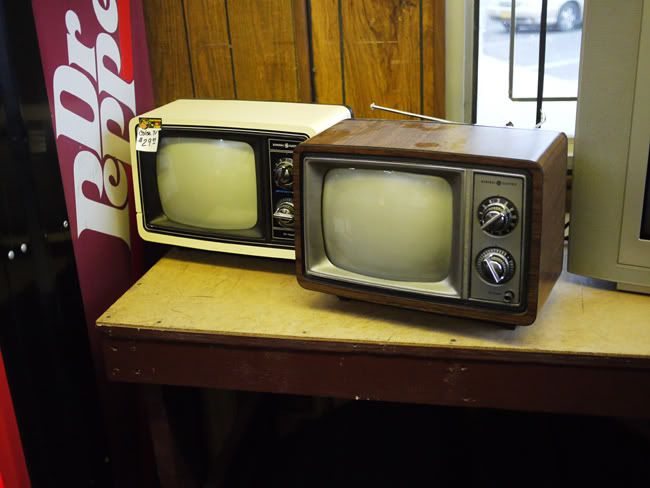 from joevancleave.blogspot.com
Picture your counters/work tops/shelves filled with not items for sale but t.v's - As many as we can get, old, new, b+w or colour. They show the images of the items once sitting there, flickering screens on loop of inanimate life. Spooky.
-break-
Trapped utopia. Mini Eden projects. A garden stuck indoors. Plants. Bench. Grass. > Contained in shop. Why not make every empty shop into a courtyard or urban park? Turning commercialisation inside out, more "gardens" will pop up just as shops are known to. Lead on to inviting people to rest, or eat lunch in our closed-off nirvana. Create a real, live, growing shop display: invite allotment enthusiasts and guerilla gardeners to contribute.
National Trust's - Country air in a jar
. Sell freshly cut grass from our very own lawn.
The Smell of Summer.
Reinforce shop trading. It could go on.
from

AndyPryke.com
-break-
Sandra's face-cut-out progression
. Boarded shop fascia with oval cut-outs. Once peered into a kaleidoscope of images made from your face is seen. Use of CCTV or poor man's version to document the shapes and patterns. Then add to your interior to act as more image (but this time moving) for kaleidoscope, keep building until really nauseating. Will require mirrors and some engineering brain power.
-break-
This doesn't require access into a premise. Write and post as many letters to a shop until the place fills up. I always notice an empty place by the piles of mail on the floor. The idea of being away too long. How many posted DL envelopes will it take to fill. Just pick an address, find out?
How many times can a printer print an A4 black page before it runs out of ink - Daniel Eatock